NEXT EVENT
Christmas concert
Royal Canadian Legion Branch 261 (Tecumseh) (map)
3:00pm Sunday, December 12, 2021
More Info Donate Now
The Greater Windsor Concert Band
Windsor, Ontario, Canada
Bringing live music to Windsor-Essex since 1997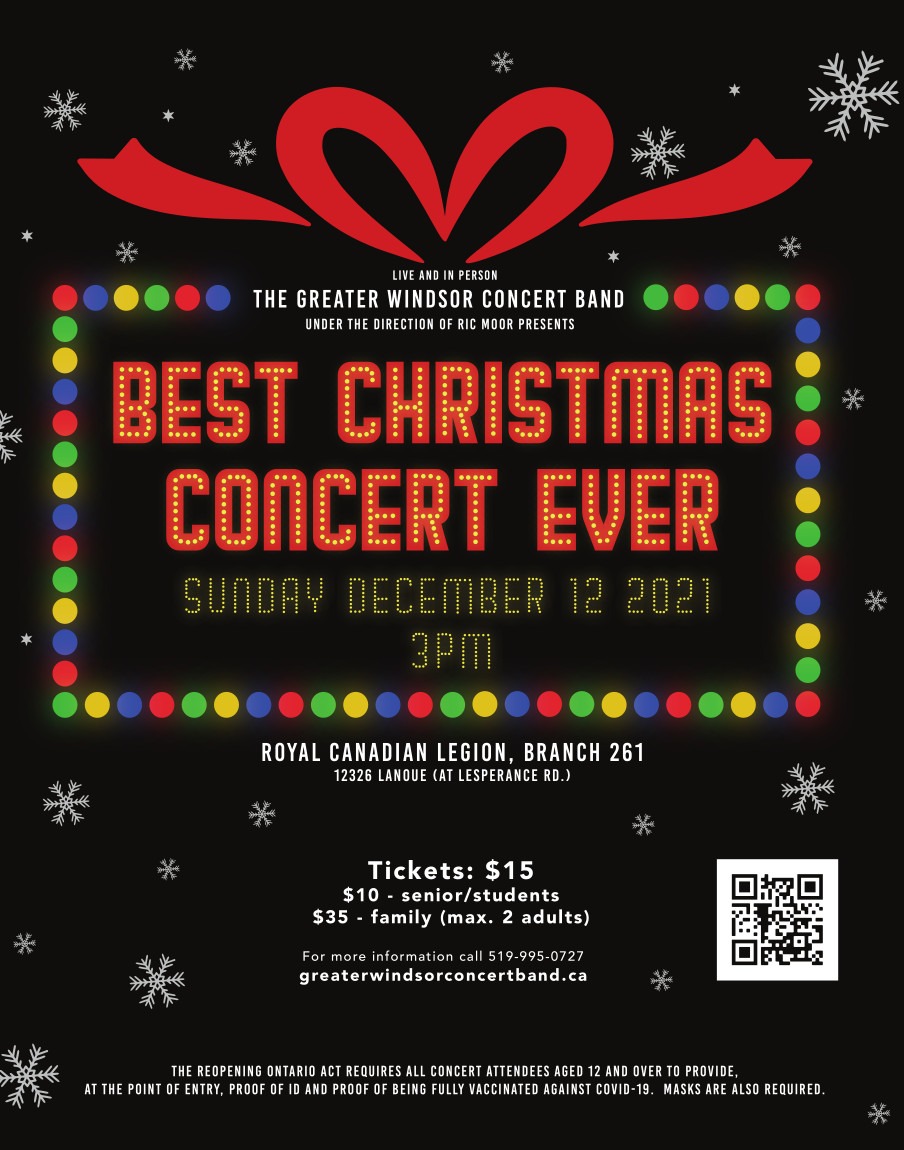 Message from the Podium
October 21, 2021
Dear Friends and Patrons
We are happy to announce that we are back to indoor rehearsals for the first time in almost two years. Our last concert was Christmas 2019. Thanks to President Lyndon Brown and our resident medical specialist Diane Hernandez, we have created a GWCB COVID protocol to keep everyone safe. It is an unbelievably joyous time!
The pandemic has been devastating to the Greater Windsor Concert Band in many ways. Currently we are operating with half the members we had pre-pandemic. However, the members who are back are going above and beyond to fill in the holes and the result is stunning. We are also gaining new members almost weekly, for which we are grateful. Unfortunately, we have had to say goodbye to some members who have moved away. Jack Dougherty, our lead trombone player, has moved back to the United States. Our president Lyndon Brown and his talented wife, Kathy, have recently moved home to Newfoundland. All have left their mark and we wish them Godspeed.
With many of the current restrictions being lifted due to vaccinations, we are presently rehearsing for our first concert in two years. Never in our history have we had this much time to prepare a Christmas concert. Now we need to find a venue since it is unlikely we will be able to follow past models of cabaret style Christmas concerts. What it will look like is still too early to tell, but we are excited to play for you again. All of our members are vaccinated and following safe protocols. As I write this, I am filled with optimism, joy, and excitement. We can't wait to see you again and hope you will continue to support live music and especially your Greater Windsor Concert Band. We cannot continue without YOU. Stay tuned to our website. Changes and updates are coming. We will keep you informed about Christmas.
Your music director
Ric Moor